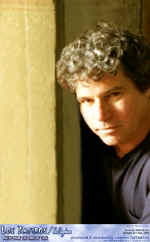 Originally from Honolulu, Hawaii, Lorenzo DeStefano is producer/writer/director of the upcoming feature film "Hypergraphia" (www.hypergraphiafilm.com) starring Oscar-nominated actor John Hurt. It is based on and inspired by "The Inman Diary" by eccentric Boston diarist Arthur Crew Inman (1895-1963), published by Harvard University Press.
His feature editing credits include "Dreamscape", "Girls Just Want To Have Fun", "The Killing Time" and "Gingerale Afternoon". From 1989-1993 he was the supervising editor and a producer and director on the acclaimed ABC/Warner Brothers drama series "Life Goes On".
Theatre directing includes the 25th anniversary production of William Inge's "Natural Affection", Horton Foote's "The One-Armed Man", the world premiere of Robert Schenkkan's "Conversations with the Spanish Lady" and the world premiere of "Twisted Twain", the one-man show by Bill Erwin.
DeStefano is author of the novel "Finchley Lane", and of the plays " Providence ", adapted from the screenplay by David Mercer (www.lorenzodestefano.com/providence.htm) and "Visitations", based on "The Inman Diary". Workshopped at Seattle Repertory Theatre in 2001 and produced at London 's Almeida Theatre in 2002 under the title "CAMERA OBSCURA" (www.cameraobscuraplay.com), both productions were directed by Jonathan Miller.
His screenplay of "Visitations" is in development. His other screenplays include "Lads", and "Cropper's Cabin", from the novel by Jim Thompson.
His non-fiction work includes "Diary of a Nobody" (Guardian – May, 2002), the photographic memoir "La Hora Magica / The Magic Hour - Portraits of a Vanishing Cuba ", and "Calle Cero - An Encounter with Cuban Film Director Tomas Gutierrez Alea" (Cuba Update 1997).